Did you know that your bedroom design can influence your mood and mental state? Great interior design engages all your senses, to evoke particular feelings. By tapping into the psychology behind colour, touch and smell, you can design the perfect sleeping environment to relax the mind and help you drift into a peaceful slumber.
Best bedroom colours for sleep
There is some evidence to suggest that colours may be able to affect you psychologically, including having an impact on your ability to sleep. Some bold and bright colours can stimulate your mind, making it more difficult to fall asleep. On the other hand, lighter, more muted colours can have a relaxing effect on the brain.
WHAT COLOUR SHOULD I PAINT MY BEDROOM?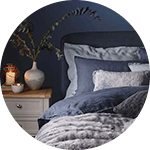 BLUE TONES
A recent study shows that blue tones may have a calming effect on the brain. A pale blue is a great choice for creating a peaceful atmosphere and works particularly well in smaller to medium sized rooms, to create a more spacious feel.
GREEN AND EARTHY TONES
Other colours that work well include shades of green and earthy tones, that evoke a natural, warm and comfortable feel. If you love bold colours, consider using a more toned-down shade, so you can still enjoy the vibes, without overstimulating your brain at bedtime. We recommend avoiding high gloss paints, which reflect light and can be distracting when trying to fall asleep.
WHAT ARE THE BEST COLOUR CHOICES FOR LINEN?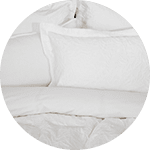 WHITE
For a serene, calm bedroom you can't go past a crisp white sheet. White sheets make your bedroom feel like a hotel-room and create the ideal sanctuary to put your mind at ease.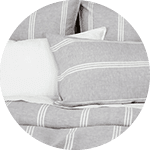 NEUTRALS
Pair neutral bedding with earthy, rustic toned cushions for a space that feels natural and minimalist. These calming shades will make your space look airy, fresh and timeless. Neutrals also make your room appear bigger.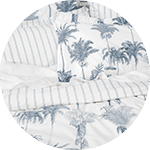 BEACHY BLUES
Love that restful feeling of staying at the beach? Bring that holiday feel to your home with beachy blue tones that make you feel like you are lying in the ocean. Pair your serene, ocean bedding with some beachy art to complete the picture.
SHADES OF PINK
Soft peach and dusty pinks are a great choice for those who love a touch of colour, but still want to keep their space restful and toned down. Peachy colours bring a more feminine vibe to your space and look fabulous paired with gold accents like picture frames and accessories.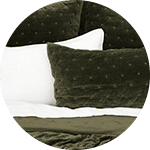 MOSSY GREEN
Mossy green is a wonderful option for those who love to surround themselves with nature. Moss and olive shades are perfect for evoking rainforest feelings. You can also surround your bedroom with plenty of lush pot plants.
Fabric and textures for a relaxing bedroom
One of the key senses that should be engaged as you drift off to sleep is your sense of touch. The support of a comfortable bed, teamed with luxurious soft-to-touch fabrics help provide a good night's rest.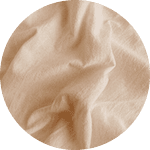 COTTON
Cotton is one of the most commonly used fabrics for bedding and is a popular choice for those looking for breathability and durability. Cotton sheets are great choice in warmer weather and are also helpful if you tend to sleep-hot.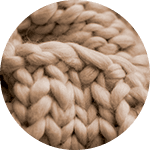 WOOL
Wool is a natural textile that is widely available. It is best to try a few different weights and weaves to find the best wool for you. This is a great choice for all climates, as is breathable.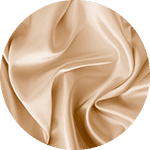 SILK
Silk is one of the most luxurious bedding choices. It has a cool feel, making it perfect for warmer weather. However, some silk bedding requires dry cleaning, meaning it may not be the most practical choice for everyone.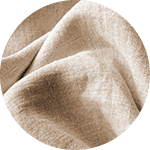 LINEN
Linen is growing in popularity with good reason. It is a luxury material that is highly breathable and cool. High quality linen is soft, durable and extremely comfortable; however it often comes at a higher price point than other fabrics. It also wrinkles easily and may need to be ironed.
Tips for a relaxing bedroom environment
Our final tips to help create a relaxing and comfortable bedroom environment are:
Try to keep your bedroom tidy, so you can relax in an uncluttered environment before bed
You may like to consider adding plants or fresh flowers, which can help provide a calming effect
It is best to remove electronic devices from your bedroom, as these have been proven to stimulate the brain, making it harder to sleep
To help engage and relax your senses, try listening to  calming music or nature sounds in the evening
Aromatherapy is also helpful to create a relaxed, scented atmosphere
At Sealy, we believe that a supportive mattress is key for achieving a high-quality sleep. If you are looking for a mattress, but aren't sure where to start, try our bed selector to get started!