Sealy mattress firmness guide
When you select a Sealy bed, it will provide you with the correct level of support and long-lasting comfort. The comfort choice of your new mattress is a personal decision, you may prefer plush (soft), medium (in-between soft & firm), firm, or extra-firm. 
IS IT BETTER TO HAVE A FIRM OR SOFT MATTRESS? 
The answer is that the ideal comfort choice is different for everyone. Side sleepers may prefer a softer sleep surface because they tend to apply greater pressure to a concentrated point in the hips and the shoulders. Front and back sleepers apply pressure over a wider surface area and have less pressure points and might prefer a firmer sleep experience. 
IS A FIRM OR SOFT MATTRESS BEST FOR BACK PAIN?
A bed which contours to your body and the position you sleep in will help with back pain. Generally, softer beds for side sleepers and firmer beds for front and back sleepers. 

Steps for choosing the best mattress firmness level
FIND THE MATTRESS FIRMNESS THAT'S RIGHT FOR YOU:
Try a range of comfort feels, spend at least a few minutes on each bed to make sure you can feel the difference.

When you find the mattress firmness you prefer, try some other models in that same comfort range.

When you find the bed you love, do spend a little longer on it, we suggest spending at least 10 minutes (or more) in your normal sleeping position.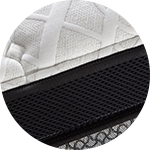 Plush
The softest and most luxurious feel in the range, provides the highest level of conformance to relieve pressure points, whilst still delivering excellent support.
Designed for: Works well for side sleepers or those who sleep in positions with pressure points in concentrated areas.  Especially for those who like a soft feel.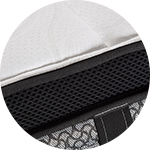 MEDIUM
The best of both worlds, a plush feel delivers an exceptional level of conformance and support to ensure your body can get the rest and recovery it needs at night. Designed for: This bed is right in the middle of the comfort feels, making it perfect for supporting mixed sleepers on both side, back and front positions.
Having the right layers also helps dissipate pressure and relieve soreness for optimum bed support. For example, if you're a side sleeper, there will be pressure on your hip and shoulder at the points which meet the mattress. Comfort increases conformance which helps to ensure you get into an optimal sleeping position.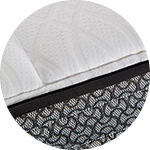 FIRM
The firm bed provides exceptional support to help you throughout the night, while still providing a high degree of comfort. Designed for: Perfect for those who prefer the feel of a firm sleeping surface. A firm mattress works well for back or front sleepers who sleep with pressure over a wider area.
Ensure you get the sleep you need night after night, with the right bed for your sleep needs. Simply try our Bed Selector to find the recommended product for you.