So, you're looking for a new mattress, but you're not quite sure whether to buy a plush, medium or firm mattress? This is an important decision, as selecting the right comfort level for your sleep profile will contribute to your overall sleep quality.
Mattress support & mattress comfort
A question often asked is what is the difference between 'mattress support' and 'mattress comfort'?
Mattress support refers to the mattress inner structure and its ability to resist downward pressure, which is applied when you lie down on. Support helps to keep your spine straight, ensuring your back is aligned while you sleep.
Mattress comfort refers to the material layers on top of the innerspring, creating a plush, medium or firm comfort feel. The combination of these layers provides varying degrees of conformance, aiding in the relief of pressure points and encouraging good blood circulation.
There are three main comfort choices to select from – plush, medium and firm (sometimes there are some slight variations to these core comfort choices, like ultra-plush or extra-firm). Once you identify your preferred comfort choice, this will help with your final bed choice.

Comfort choices: what mattress firmness is best?
PLUSH MATTRESSES
The plush comfort level is the softest. It offers the highest level of conformance to help relieve pressure points. This comfort choice is recommended for those who sleep on their side, as this can put additional pressure on shoulders and hips. You will prefer this option if you enjoy a luxurious feel, like you are sleeping on a cloud.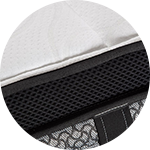 MEDIUM MATTRESSES
The medium comfort choice offers a lower level of softness than the plush, while being not quite as rigid as the firm. If you need some conformance but the plush is too soft, this is the ideal mattress for you. This is a popular choice as it provides a good balance of comfort and support.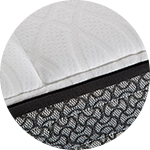 FIRM MATTRESSES
The firm comfort level is the most rigid. It is good for people who sleep on their front or back, as it disperses weight more evenly, helping to reduce pressure. This is also a good choice for those who prefer a firm feel and for those who want to ease lower back pain.
Best type of mattress for your sleep profile
Your sleeping position is an important consideration in selecting the best comfort level for you. Maybe you sleep on your back, or your front, or perhaps you switch between? Discover which comfort level may suit you best, based on your sleeping position.
BACK SLEEPERS
If you sleep on your back, then you are spreading your weight fairly evenly across the mattress, rather than placing too much pressure on any single body part. To give your spine the most support possible when sleeping on your back, a firm or medium-firm mattress is your best choice.
FRONT SLEEPERS
Sleeping on your front can place a lot of pressure on the pelvis. If your mattress does not provide enough support, then your hips may end up sinking into it, putting your spine in an uncomfortable position. So, avoid mattresses that are too soft if you sleep on your stomach.
SIDE SLEEPERS
People who sleep on their side should opt for mattresses with a soft-to-medium comfort level. Sleeping on your side can place a lot of pressure on your shoulder and hip joints, which is why a softer mattress that conforms to your body position is best.
COMBINATION SLEEPERS
Combination sleepers tend to change positions during the night, shifting from their back to their side. This can make choosing the right mattress more difficult because your needs may change as you move during the night. Medium or medium-firm mattresses are generally better for this type of sleeper, but take your comfort preferences and weight into consideration.
Best type of mattress for pain management
Back pain is a frustratingly common problem across the world. The wrong mattress or an old, worn out mattress can cause or worsen back pain. However, the right mattress can help ease back pain, along with other aches. If you experience pain or have a health condition, then you might need something more specialised? An adjustable mattress is a great option for pain management. These mattresses are designed with orthopedics in mind, to help ensure you get the support your body needs.

How to find your comfort preference​
Discovering your comfort preference is important to help with sleep quality. The steps below will help with your bed selection.
GET PREPARED
It is best to be prepared before you head into store. Firstly, work out the ideal bed size for your room. Also, take along your pillow, so you can replicate your normal sleeping environment. You might like to consider wearing comfortable clothing as well. Once you are in-store, take a note of your preferred mattress choices. Think about your normal sleeping position and try to recreate this in-store. Keep in mind that side sleepers usually need a softer comfort level, while front and back sleepers are best to consider a medium or firm comfort feel.
TRY THEM ALL
Be sure to try a mattress in each comfort level: plush, medium and firm. Spend a few minutes so you can get a feel for the differences. Take note of how comfortable you feel on each of them.
NARROW YOUR SELECTION
Once you find the comfort level you like best, try a range of beds within this comfort level. Once you identify your favourite, be sure to ask a retail consultant for more details about the main features and benefits.
10 MINUTE TRIAL
When you have narrowed down your selection, it's time to do a full comfort test. Lie down on your preferred bed for at least 10 minutes in your normal sleeping position, this will help you determine whether or not you have found your preferred comfort choice.
Keep in mind, if you are sharing this bed with your partner, it will be important to both test the beds. Then, you can find an option that will suit both of your needs.
We recommend the following tips to help find your perfect bed:
Before you head to store – try our online bed selector to help with your choice
Be prepared – take your phone or a notepad and jot down your preferences
Try out each comfort level – remember, side sleepers are often suited to a plush mattress, while front or back sleepers will probably be best on a medium or firm mattress
We recommend you try the full range of beds available in your preferred comfort choice
Once you think you have found our favourite mattress, allow for at least a 10 minute test run before you make your final decision
If you need more help, please get in contact with us today. We are happy to answer any further questions you may have to ensure you find the perfect bed for your needs.
What special features do Sealy mattresses have?
You may wonder what contributes to a plush, medium or firm mattress? Here's a little insight as to what comfort technology we use to create the different comfort feels. When you have selected your preferred Sealy mattress you can cross-check what features the mattress contains to help support your sleeping style.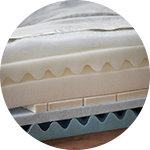 COMFORTCORE® LUXE
This layer is found at the base of the comfort layers and features natural latex and gel-infused visco. The ComfortCore® Luxe conforms to your body and supports the lower back.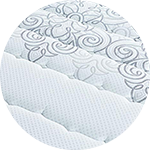 COMFORTCORE® PLUS
Found just below the mattress quilt layer is the ComfortCore® Plus. This feature provides exceptional conformance, with a gel-infused visco centre-third. As with the Luxe, the Plus supports the lower lumbar area.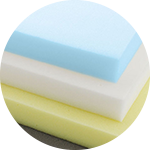 COMFORTCORE® PREMIUM
ComfortCore® Premium is located underneath the quilt layer of the mattress and since it's a memory-foam layer, it supports the lower lumbar region of your back. This feature is especially effective at relieving pressure points.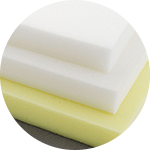 COMFORTCORE®
Our ComfortCore® layer provides targeted support for your body. The conformance level is on-point to support your lower lumbar area.
FINE FIBRE
Our mattresses contain fine Sealy Fibre to provide exceptional comfort. This feature also adds to the overall durability function. What's more, all our fibres are pre-compressed to help ensure our mattresses retain their loft.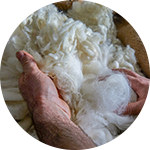 NATURAL WOOL
Select Sealy mattresses feature natural wool to help with durability and flexibility. Natural wool creates loft and has the ability to wick away moisture, so your mattress remains comfortable, especially in temperature changes.
Ensure you get the sleep you need night after night, with the right bed for your sleep needs. Simply try our Bed Selector to find the recommended product for you.