Designer Bedroom fundraiser 2022
In 2022 we celebrated our 10-year anniversary of support for Breast Cancer Foundation NZ. In October, we joined forces with Breast Cancer Foundation NZ ambassador Sarah Gandy, along with Hamilton-based stylist Erena Te Paa, to create a luxurious bedroom retreat and auctioned this on Trade Me. Each piece has been hand-selected in beautiful shades of pink, with rest and restoration in mind, to support the mahi that Breast Cancer Foundation NZ does day-to-day.
Discover more about Sarah Gandy's story and Erena Te Paa's styling tips below.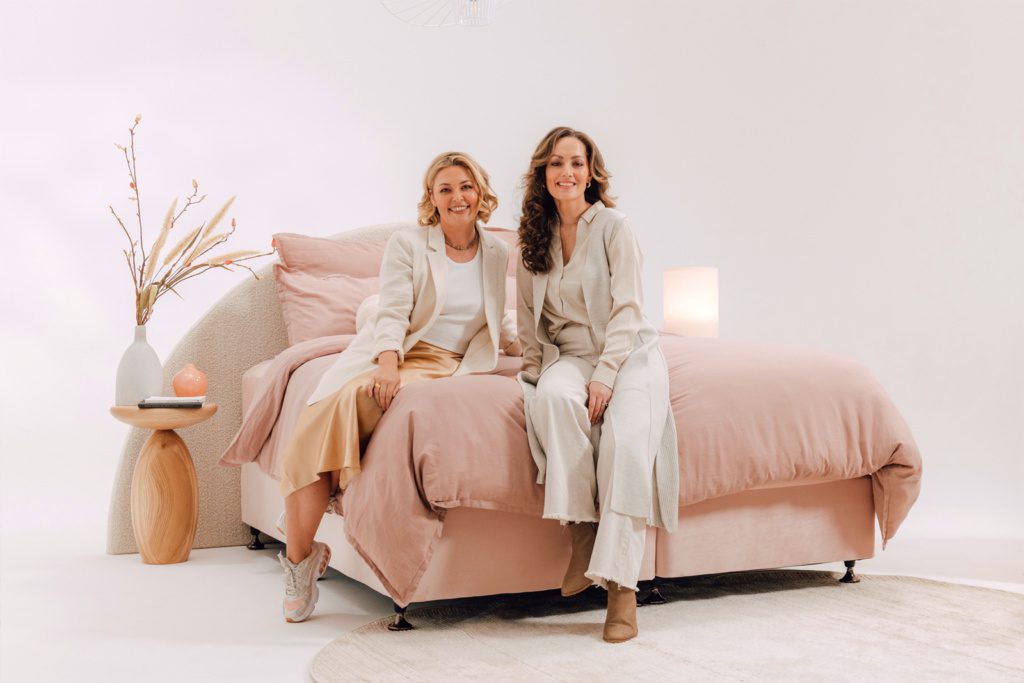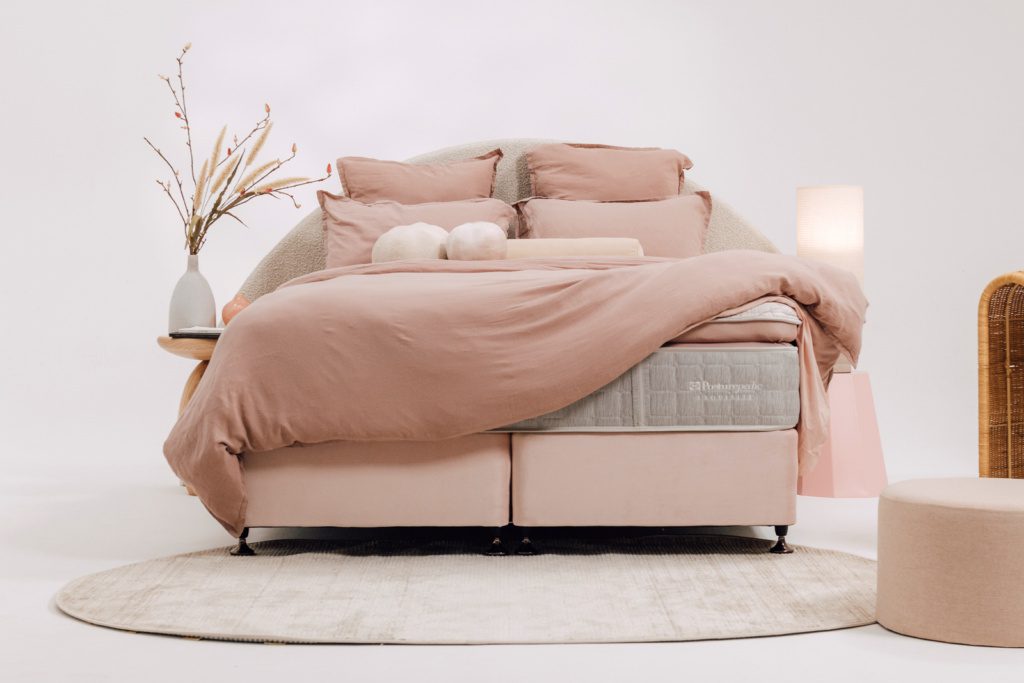 Sarah Gandy
My bedroom has always been my favourite room in the house. As a kid, flatting and now sharing a home with my husband, I regularly find myself drawn to spending time in the serenity of my bedroom space.
In 2019, I was diagnosed with breast cancer. Coincidentally, we had just upgraded our old slat bed to a new Sealy Posturepedic bed. It finally felt like we had a proper 'grown-up' bed. Thank goodness we did, as I was suddenly spending much more time in bed, navigating my way through chemo, recovering from surgery and napping from radiation-induced fatigue.
To have a bedroom environment and a bed so supportive and comforting was hugely important. It became a cloud-like haven for rest and recovery. Like a big hug, when you're feeling tired and crappy.
The importance of a safe and nurturing space for cancer patients, and indeed anyone dealing with illness, cannot be overstated. It can be hard for many of us to spend time at home and resist the urge to 'do' something: cook, clean, tidy, reorganise … When you've got a peaceful bedroom space, it's a huge escape and gives you a chance to relax and recover.
I'm proud to be partnering with Sealy New Zealand, Erena Te Paa and Breast Cancer Foundation NZ to help raise funds for the really important work they do.
Erena Te Paa
To me, the master bedroom is one of the most important rooms in the home, as it's where your day ends and a new one begins.
It's the space where you reconcile all that has transpired during the day, restoring yourself with the promise of a good night's sleep. Of course, ensuring you get the quality of sleep you deserve can come down to many things, and not all are within your control, but selecting pieces for your bedroom with rest and renewal in mind is an excellent way to start.
At the heart of any bedroom design is the 'who', and the 'who' I have styled this room for, is someone who has overcome a great deal and is now wishing to recover at home, in a space that feels comfortable, peaceful and a little bit luxurious. One key consideration for optimal rest is choosing a bed that not only looks luxurious to sleep on but exudes the kind of quality and innovation that supports restorative sleep. With modern features designed to relieve pressure to the lower back and smart fabrics to help regulate body temperature, the Sealy Posturepedic Exquisite bed provides the ultimate in comfort and support, to allow rest and recovery.
When it comes to dressing the space, I wanted to encapsulate the feeling of waking up in a room that felt like a boutique hotel, one where you could happily spend hours at a time. To help with this, I wanted to create a separate nook with a generous armchair and footstool, where you can sit with a cup of tea, your favourite book, or both.
Here are some tips I use to create a bedroom that feels like a restful retreat:
MINIMISE AND DE-CLUTTER
The saying goes that a clean space helps clear the mind, or at the very least helps to reduce overwhelm. By taking a less is more approach and selecting a few key pieces to showcase, a bedroom can feel more spacious and altogether restful.
Consider reducing the amount of electronic devices in the bedroom too, as these can be overstimulating and unnecessarily distracting.
COLOURS THAT CALM
Colour choice is a very personal thing, but when the objective is to promote calm and rest, it's the softer, earthier shades I gravitate towards. If you're unsure of a starting point you can use a favourite furniture item or piece of art as inspiration for your colour choices. In this space I loved the elegant pattern of the mattress fabric against the soft pink bed base. I chose to use complimentary shades as accents around the room. From the dusky rose bedspread to the merlot table lamp; these pieces stand out against a softer palette of ecru, cream and beige, in a way that is memorable yet quiet and dreamy.
ON HOLIDAY AT HOME
Think of a favourite place you've stayed, whether it be a hotel room or a cosy b&b and note down all the qualities of that room that felt special. It could be the softness of the pillows or the linen curtains blowing in the breeze. Perhaps it was a beautiful light fixture that caught your eye, or simply the way the room smelled. By incorporating a few of these elements into your bedroom, you're creating moments that evoke a rejuvenating holiday feeling, which in turn helps to transform those otherwise ordinary moments into something more special.
BRING NATURE IN
When life gets a little busy or stressful one of the simplest ways to feel more grounded is to venture outside or in the case of styling a bedroom, bringing the outdoors in. There are a couple of ways to do this; the first is by adding a plant or floral arrangement that reflects the foliage of the season and the second is by adding natural textures within the space itself.
I've utilised both these elements in this bedroom design, by placing a floral display beside the bed, and in the rattan frame of the armchair as well, as the organic form of the wooden side table. Not only do these things reference nature but they also help to create a more restful resort-like quality.
PERSONAL TOUCHES
A bedroom is a highly personal space, so it makes sense to incorporate items that have special meaning to you or that help to nurture your well-being. Perhaps it's framing a picture from your children, or note from a loved one, or draping a treasured throw over your bed? It could simply be a handful of books that inspire you, or a favourite scent.
These little personal details are what make your bedroom unmistakably yours and sometimes surrounding yourself with a few inspiring reminders is a great motivator to start or end the day with. If you find that you have too many special pieces, try swapping out a handful at the start of each new season.