Join the bidding on Trade Me for our Designer Bedroom in support of Breast Cancer Foundation NZ
Designer Bedroom fundraiser 2023
Sealy New Zealand is proud to continue our support for Breast Cancer Foundation NZ in 2023.  Our October fundraiser draws on a botanical theme and creates an environment of aroha and beauty. The bedroom boasts our enchanting pink-themed Sealy Posturepedic Exquisite bed, adorned with a selection of gorgeous linens and botanical accessories.
Our 'Designer Bedroom' is truly designed to inspire. We have teamed up with three talented wāhine, artist Amber Emm, along with interior designer Abbey Lang and Heather Boswell Nguyen from Curated Botanics.
Amber Emm is a talented New Zealand artist, whose inspiration is derived from the beauty of our very own local landscapes and surroundings. This year, our 'Designer Bed' features two of Amber's floral artworks on the satin panels of the Exquisite bed.
"These two paintings encapsulate this very worthy cause," Amber shares. "Having had a very close friend go through breast cancer, I understand the need to surround oneself with love, beauty and healing, as the road to recovery is a long process. Your bedroom is a deeply personal space, so it's an honour to support the 'Designer Bedroom' campaign with my artworks to help Kiwis affected by cancer, come home to a space that creates a sense of peace and calm."
Interior Designer Abbey Lang has meticulously curated the room and sourced the styling elements, fashioning a master bedroom suite, intended to cultivate a restorative experience. Her boutique floral business Curated Botanics (where her talented sister Heather is the Head Creative) has created an amazing faux-floral sculpture as a statement piece for the space.
Abbey shares her inspiration: "Master bedrooms are a special place in your home. They are a haven and can be styled in a way that's uniquely yours and deeply personal. We believe botanicals play an important part, surrounding ourselves with flowers or plants can help make a house a home – or in this case a bedroom a retreat."
"I am a true advocate for creating the best sleep environment, which starts with this luxurious Sealy Posturepedic Exquisite bed providing the perfect balance of comfort and support. We have dressed the bed with 100% linen and 100% duck feather inners, for a natural sleep experience."
"We have drawn inspiration from Amber Emm's peony artwork with the creation of our faux-floral sculpture. Its flora and form are inspired by nature – rambling and wild. Its colour palette uplifts and brings life. The surrounding room is soft and calm, echoing greens and pinks, inspired by nature. The bedroom is styled with luxurious items, beautifully crafted, to create the ultimate retreat."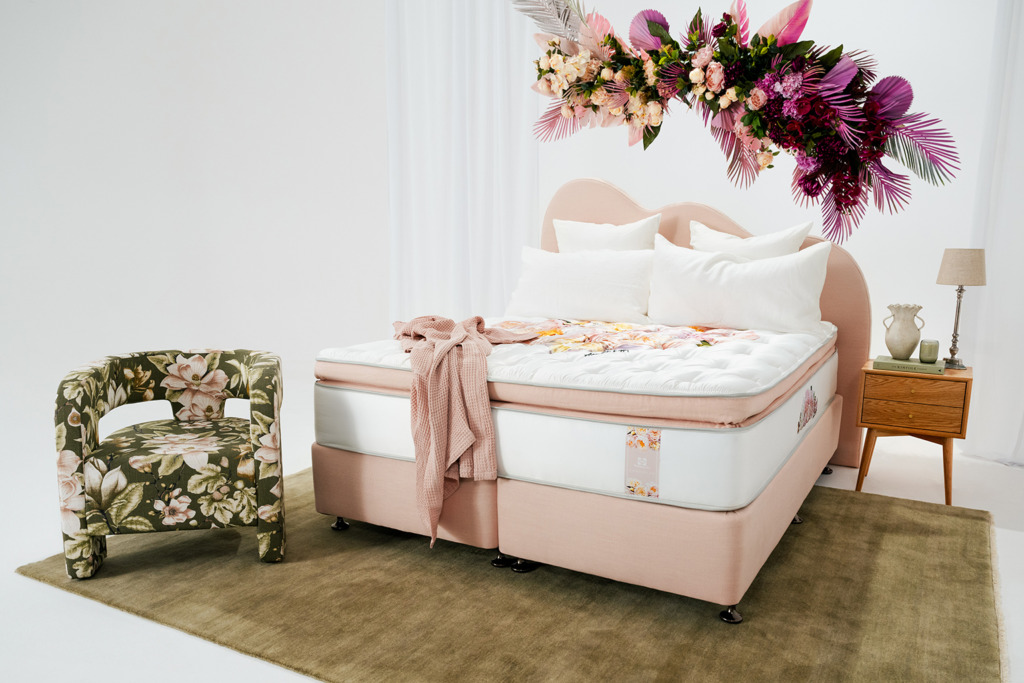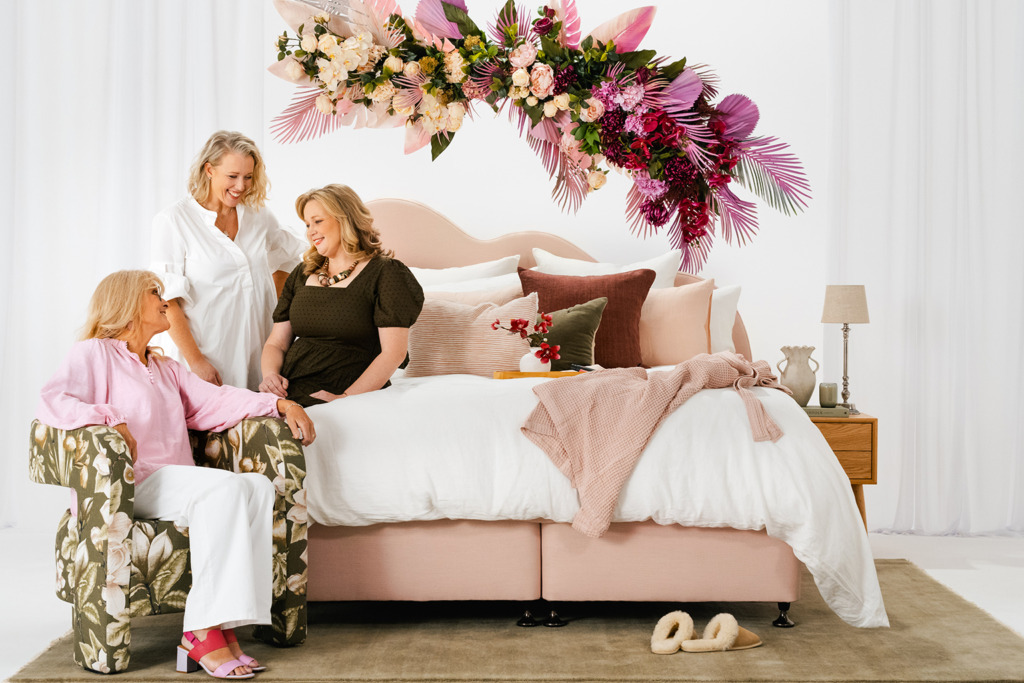 Discover Abbey Lang's tips to create your own botanical bedroom retreat at home:
Deep, restorative sleep is key to rest and recovery; so a quality, supportive and comfortable bed is the best investment you can make. The Sealy Posturepedic Exquisite bed offers a luxurious sleep escape, so you can experience pure comfort and absolute support.
SELECT YOUR COLOUR PALETTE
It's important to decide how you want the room to feel – do you want it to be light and fresh, warm and encompassing, or dark and moody? Once you have decided on the feel of your space, select colours which emote that feeling. Look to nature for inspiration.
Select items that indulge your senses. Think about how you want the space to feel?
TOUCH: Choose a rug or floor covering which feels plush and luxurious under foot. Select linen and inners which feel good in your hands. Add slippers and a robe, again think: natural fibres, such as silk, wool, cashmere, linen, cotton.
SMELL: Place your favourite candle or diffuser beside your bed and select calming fragrance notes, like lavender or chamomile.
HEAR: Play a soothing soundtrack to help create an atmosphere of relaxation, or perhaps try listening to your favourite podcast?
TASTE: Consider a relaxing herbal tea to help you wind down, and sip from the comfort of your bed.
SEE: Lighting is key, create pockets of light by using lamps, candles – or try dimmers to create a restful environment.
Make your bedroom uniquely yours. Add your favourite accessories to help enhance your connections, such as your favourite book, family photos or sentimental treasures.
DON'T FORGET THE BOTANICALS
Whether they are fresh or faux, plants or flowers – botanicals add a touch of colour and bring life to your environment. Beyond visual appeal, they can help you feel calm, relaxed and connected to taiao (nature).